Mercuri International is starting business in Serbia in January 2013. The Serbian team will mainly deliver services in Sales Management, Powerful Sales Performance, In Company Implementation Projects and Open courses.
"We see a large potential in Serbia due to the country approaching the EU. Many multinational companies choose Serbia as the headquarter location of their Eastern Europe operations and we are looking forwards to enable the Serbian business community to grow." says Mr Ola Strömberg, CEO Mercuri International Group.
The office will be located in Belgrade and the managing director will be Milomir Ždrale. Previously Mr Ždrale has worked as a Sales Director for two international companies in Ukraine and Serbia before becoming a sales consultant. His expertise is in Sales Management and in the optimization of Sales Processes and Systems.
The opening ceremony was held on December 5 2012 at the Hotel Belgrade. Mr. Jiri Sedivy, Regional Director Mercuri International Central Europe and Mr. Davor Fabčič, Managin Director Slovenia presented Mercuri International and the results of Mercuri International's global Sales Excellence survey.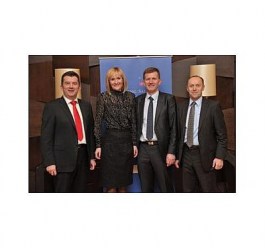 Press Contacts
Ola Strömberg, CEO Mercuri International Group Email: ola.stromberg@mercuri.se.stg.synot.io Telephone: +46 (0) 8 705 29 29 | Mobile: +46 708 119 906
Milomir Ždrale, CEO Mercuri International Serbia Email: milomir.zdrale@mercuri.rs Telephone: +381 (11) 63 00 403 Mobile: +381 63 10 16 696